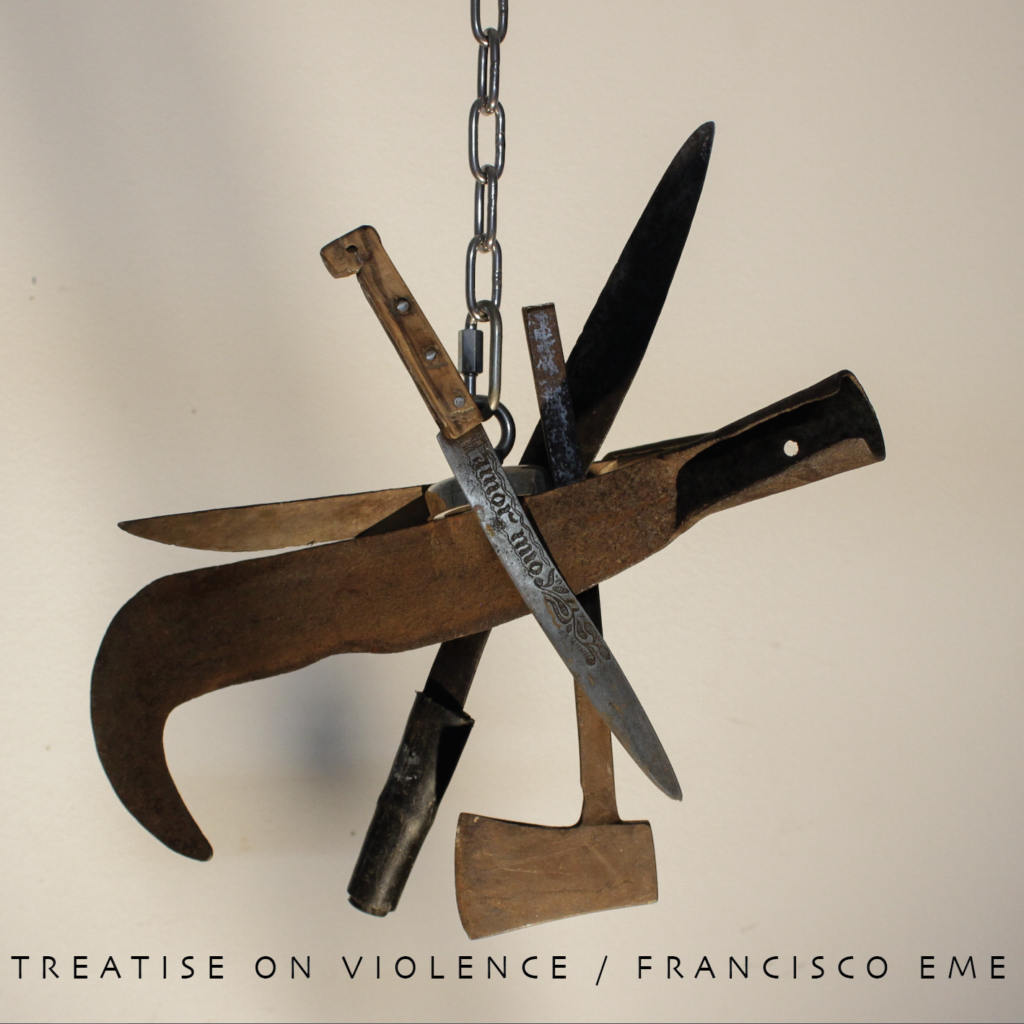 Treatise on Violence
Treatise on violence is a project focused on legalized violent practices that we as a society have created in the name of civilization, highlighting the violent ways in which our capitalist, misogynist, racist, imperialist system functions. Inspired by the book: ̈Violence Terrorism, Genocide, War ̈ by Wolfgang Sofsky, in this work I intend to question the effectiveness of our political and legal systems and the structure of our culture.
Originally, Treatise on Violence was meant to be presented as a multimedia concert, product of my artistic residence at Bread and Salt, San Diego in 2019. Unfortunately, said concert was cancelled because of the 2020 pandemic. The project includes music compositions, sound installations, multimedia performances, sculptures and photographs. As a bonus, I have included original audio field recordings done at the residency space, which used to be a bread and salt factory. These recordings were used as sound sources for the compositions in this album, and are free to use as samples, for musical or artistic purposes only. Buy the album to get the samples.
States, armies & police forces are meant to bring security to their society but in order to do this they have been granted the power of the legal use of force. Sadly, this force is often misused against those who were meant to be protected. In our culture, there are groups who are granted the authority to be violent and in certain circumstances, permitted to commit atrocities that could involve thousands of deaths. Others, although not legally allowed, benefit with impunity from our system.
Composed, produced, recorded, mixed and mastered by Francisco Eme. Recorded at Bread and Salt & BedClub Studios, San Diego, CA between 2019 – 2021. Mixed and mastered at BedClub Studios. All rights reserved.
Track 1. LOS DESAPARECIDOS (on forced disappearances)
Performed by Wilfrido Terrazas
Music dedicated to those families looking for their disappeared loved ones.
Track 2. UNIT OF PUBLIC ADDRESS (on police brutality)
Music made using fragments of dozens of songs by various artists talking about the police. As a sound installation this piece is played on two USA military megaphones from the Vietnam War era.
Track 3. ALLEY OF THE KNIVES (on gendercide)
Vocal improvisation by Bonnie Lander
I am fragile for the loved ones.
Some assassin, more powerful, stronger,
intercepted me as I crossed the alley of knives
and cut me off.
Silence woman, he said,
your complaint will be worth nothing at this moment
or any other moment.
Very little and very gray is the time that you have left in this morning of stray dogs and frightened drunks. Leave me a moment, I said,
measure the light that receives me every day and leaves me. Let me cry for a while alone.
But there was only cold in the alley of knives.
Very little and very gray the time you have left Miyo Vestrini
*This piece was recorded inside a silo, with no artificial reverb added.
Track 4. GOUTHA (on bombings of civilian population)
Performed by Anishka Lee-Skorepa
The lyrics of this song were made using real testimonies by real people who survived the bombing of Goutha, a neighborhood south of Damascus that was one of the last rebel strongholds in the Syrian revolution. The Russian army and government forces laid a siege that lasted seven weeks. Around 400,000 people were trapped in an area
just over 100 square kilometres in size. Thousands were killed.
Track 5. TIME (on political prisoners and incarcerations)
Performed by Monica Camacho
An incarcerated person wonders how much time she will spend in that condition. Will she ever see her loved ones again? How much time has she been there?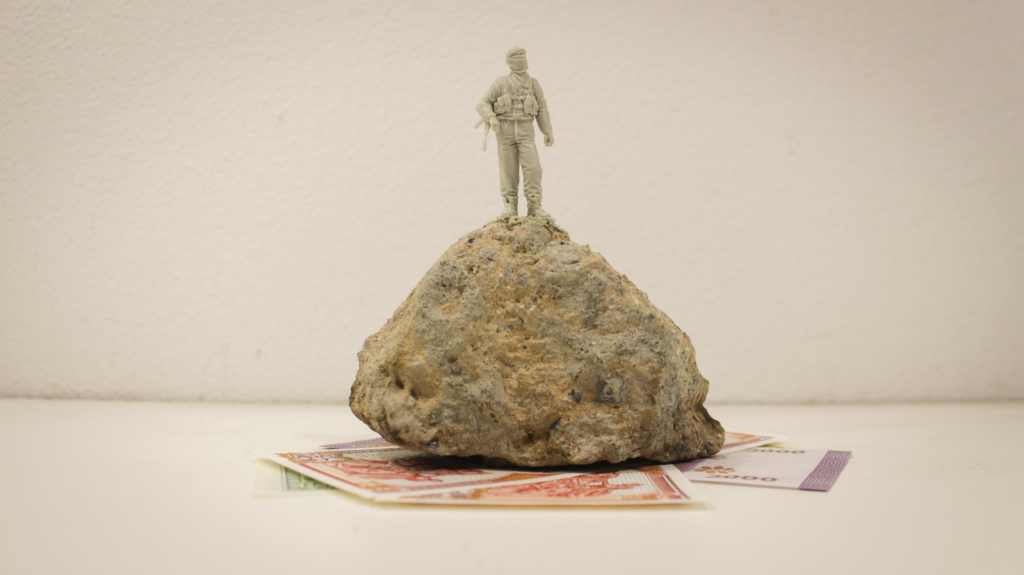 INSTALLATIONS
Unit of Public Address
Music made using fragments of dozens of songs by various artists talking about the police, played on two USA military megaphones from the Vietnam War era.