PARALLEL PLANES, a series of works about language at the border. The series consists on interactive installations, sound pieces, prints, videos, video installation and photography.
Understanding language as an element in the social process of the construction of the self, this project acknowledges Spanglish as an essential piece of the identity of the border community of the San Diego -TIjuana region. In a context of  clash or encounter, Spanglish verbalizes the condition of living in the middle of two cultures.
Source for different books, essays and academic studies, for some it is seen as an aberration of Spanish and English languages, for others it´s a more efficient way of communication that implies a superior use of bilinguality. Spanglish is a language in constant movement and it adapts to the moment and the region where it is spoken. Only those who speak Spanglish, understand that to speak in Spanglish, you have to live in Spanglish.
The MEX – USA border is not only the division between two countries, but rather is the place where the whole Latin American continent clashes with North America.
—-
PLANOS PARALELOS es una serie de trabajos en torno al lenguaje en la frontera. La serie consiste en instalaciones interactivas, obras sonoras, impresos, videos, video instalación y fotografía.
Entendiendo el lenguaje, hablado o escrito, como un elemento en el proceso social de la construcción del individuo, este proyecto reconoce el Spanglish como una pieza esencial de la identidad de la comunidad fronteriza de San Diego, USA y TIjuana, México. En un contexto de encuentro cultural o choque, dependiendo sea el caso, el Spanglish verbaliza la condición de vivir en medio de dos culturas. 
Fuente de diversas tesis, libros y estudios académicos, por algunos es visto como una aberración de los lenguajes Inglés y Español, por otros es visto como una manera más eficiente de comunicación que implica un uso superior de la bilingüalidad. El spanglish es una lengua en constante movimiento y muy adaptable a las circunstancias, y la región en la que se hable. Sólo los hablan Spanglish pueden entender que para hablarlo, se necesita vivir en Spanglish.
La Frontera USA-México, no sólo es la línea entre dos países, sino el lugar donde todo el continente latinoamericano, con toda toda su cultura, choca con Norteamérica.
---
Media Social.
Interactive Installation.
The program identifies words in Spanglish being used on twitter in real time. Every Tweet slowly transforms an empty square into a crowd of protestors. Using Spanglish as a political & social tool. In collaboration with Digital artist Enrique Hernández.
El programa identifica palabras en Spanglish usadas en tiempo real en Twitter. Cada Tweet transforma lentamente una plaza vacía en una plaza llena de gente protestando, usando Spanglish como una herramienta política y social. Obra en colaboración con el artists digital Enrique Hernández.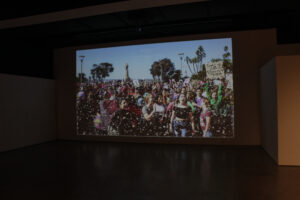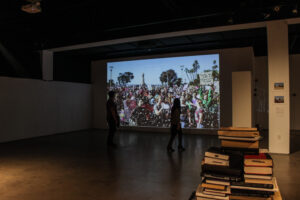 ---
La línea verbal.
Parallel Planes / Planos Paralelos – Textos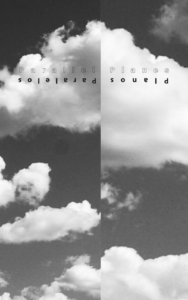 ---
A visual campaign to learn/teach Spanglish.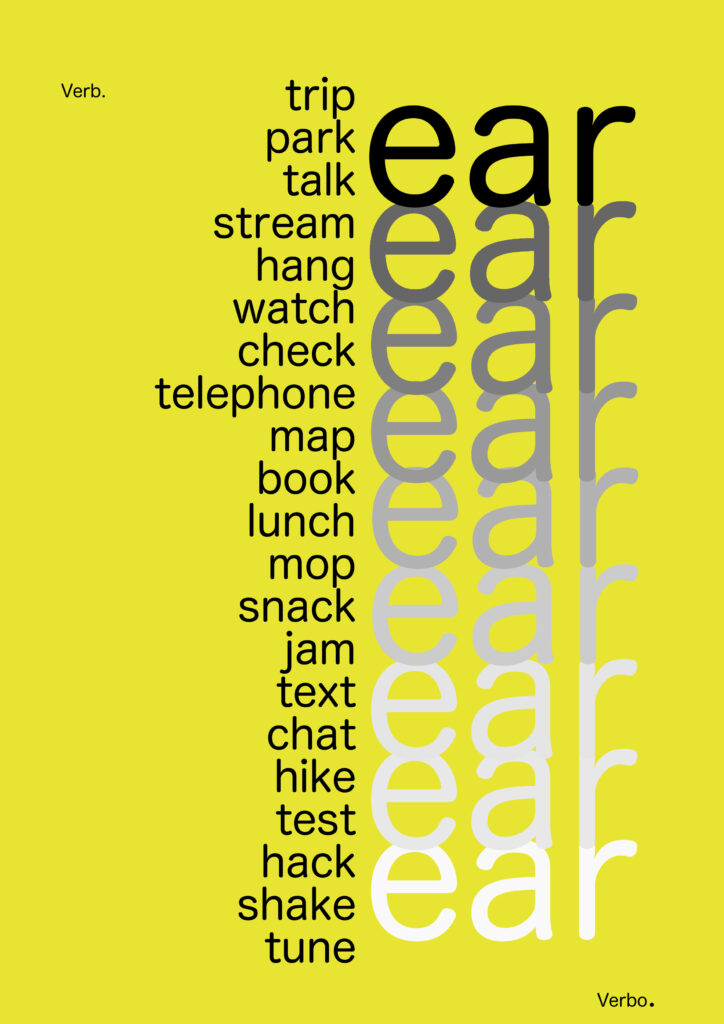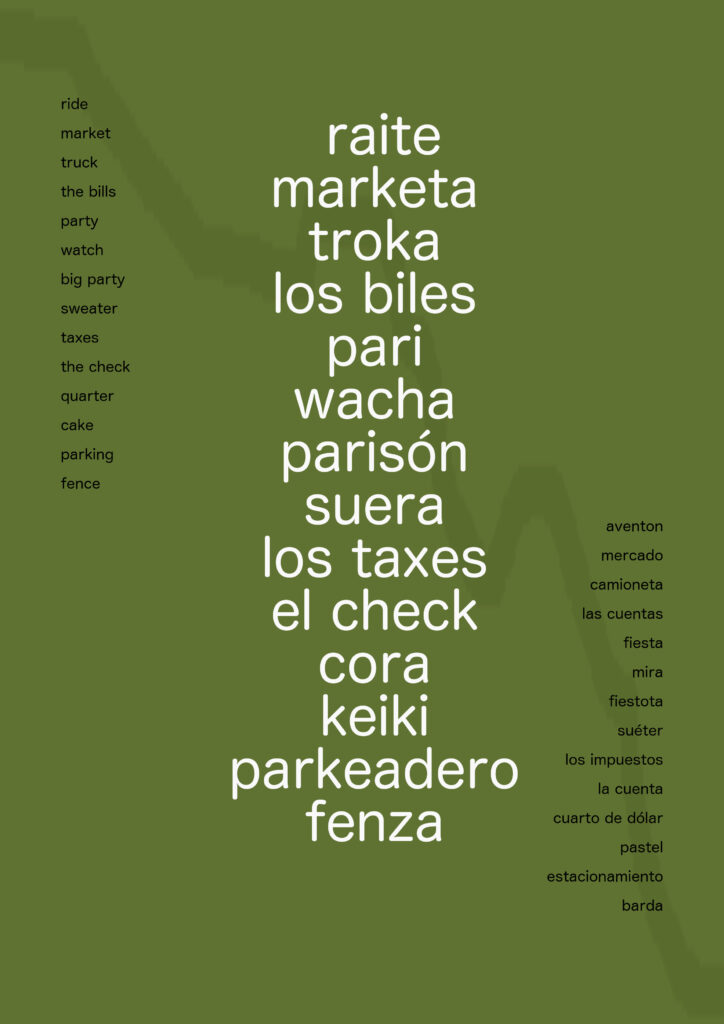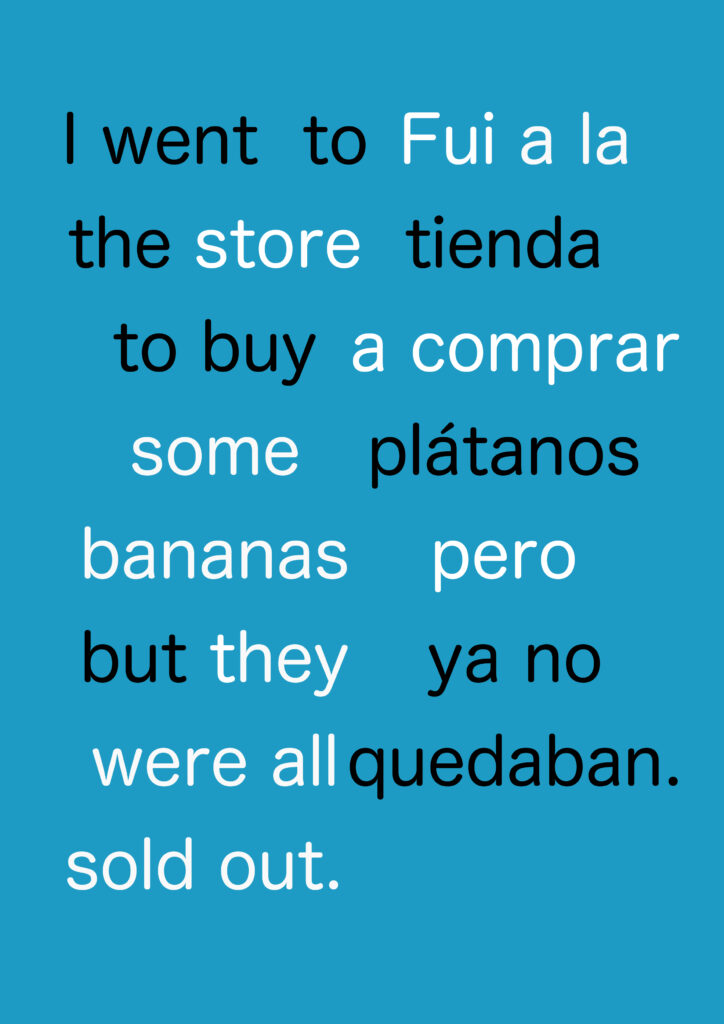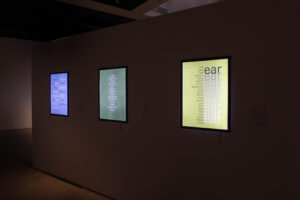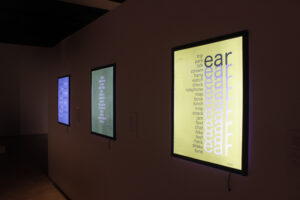 Light Box & Digital Print 45 x 30 inc.
---
MARCI
Video installation. To the left -Tijuana. To the right-San Diego. Both landscape and soundscape blend into a single one.
Video Instalación. A la izquierda Tijuana, a la derecha San Diego. Ambos paisajes visuales y sonoros se mezclan para crear uno solo.
---
LA TORRE ANTI-BABEL
The sculpture of English & Spanish books is accompanied by multichannel audio of excerpts read by different people. The reference to the Babel tower is to subvert the idea that many people speaking many languages are unable to understand each other by uniting English and Spanish books to create this structure. Books will be donated to San Ysidro Public Library.
***
La escultura de libros en Ingles y Español esta acompañada de audio multicanal con fragmentos leídos por diferentes personas. La referencia a la torre de Babel es para subvertir la idea de que muchas personas hablando diferentes lenguajes son incapaces de entenderse entre si, uniendo libros en Ingles y Español para crear esta estructura. Los libros serán donados a la nueva Biblioteca de San Ysidro.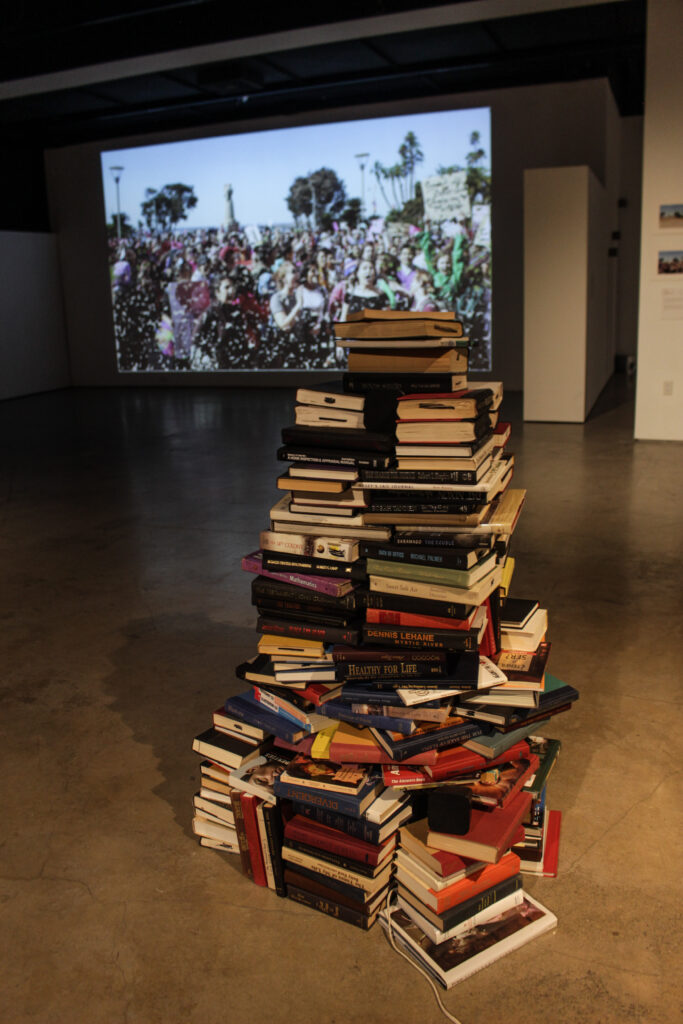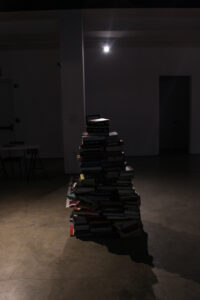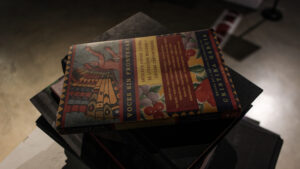 ---
LA CRUZADA
This piece is a collection of several audio recordings taken at the San Ysidro border.
Esta pieza es una colección de varias grabaciones de audio en la frontera de San Ysidro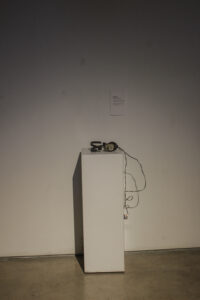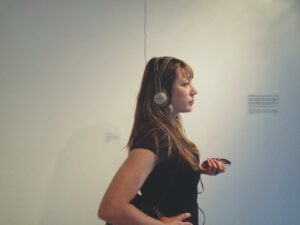 ---
LA PALABRA MUERTA / DEAD WORD
 Plastic letters and lighting. 2017.
This work represents the ephemeral and fragile nature of language, specifically of unofficial languages and other extinct ones. These letters once formed a message, now are decontextualized. The letters will be for sale separately as lamps until the word completely disappears.
Este trabajo representa lo efímero y frágil del lenguaje, específicamente de las lenguas no oficiales y otras ya extintas. Estas letras alguna vez formaron un mensaje, ahora descontextualizado. Las letras estarán a la venta por separado como lamparas hasta que la palabra desaparezca por completo.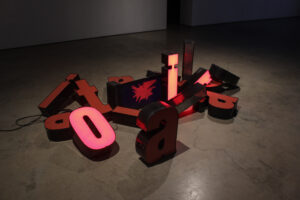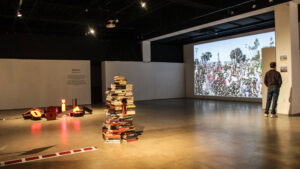 ---
EL NORTE QUE ES EL SUR
Video installation.
People speaking spanish with mexican accent, spanish with american accent, english with mexican accent and spanglish. All this accents you can hear in San Ysidro – TIjuana.
---
All rights reserved – Francisco Eme 2017