Sound & Video Installation
Work  comissioned by the  AMMA Espinosa Rugarcía Foundation 2013.
The intervention consists of a total of 24 speakers and two videos. This is an unconventional reading of 50 Bible passages. Understood as historical moments, this exhibition presents a collection of scenes that whether or not really happened, are still part of our human history. The main room serves as a large musical instrument that to be played, one must walk through it. You are generating your own sound composition while walking throughout the 24 speakers placed through the room The sculpture was done by the mexican artist Jose Felipe Nieva,(b. ? – 1953)  who dedicated 50 years of his life to create this huge collection of biblic scenes creating more de than 1300 pieces.
.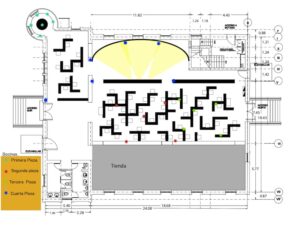 Installation blueprints of the 24 speakers and two videos.