Multimedia concert that explores violence in our culture, focusing on legalized and normalized violence: Gender violence, police forces, armies, hate groups, and other forms of violence accepted as part of the social contract in a capitalist, racist and sexist society.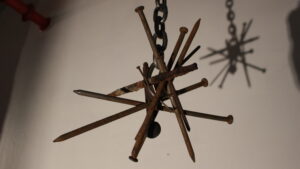 The concert is presented in 5 acts, each one presenting a particular scene and form of violence, as seen through the eyes of a character.
Act 1. Los Desaparecidos (The disappeared ones) For flute and electronic sounds.
Act 2. Unit of Public Address. Electroacoustic composition created using fragments of dozens of songs about the police.
Act 3. The alley of the knives. Poetry by Miyo Vestrini, narrating the moment a woman was attacked.
Act 4. Goutha. For voice and electronic sounds. A survivor narrates the moment in which the neighborhood of Goutha in eastern Syria, was bombed.
Act 5. Time. For voice and electronic sounds. A character has been in jail for some time for their ideals.