Memory Postcards
From a non existent time, from nowhere, memory sends us images, sounds, smells and sensations. As dunes, every day because of the winds and every year because of the rain, memories erode. Did it really happen?
How different is the memory from reality than memory from a dream?
How does our memory sound like? How does it look like?
This is a collection of works that tries to represent the way images and sounds reach me from my memory. I use video, photography and audio recordings where it is impossible to identify the subjects. I use blurry sounds, out of focus images and unrecognizable soundscapes to represent the world of memories. Past is not exact.
---
Postales de la Memoria
Desde un tiempo inexistente, desde un no-lugar la memoria nos manda imágenes, sonidos, olores y sensaciones. Como las dunas, cada día, con sus vientos y cada año con sus lluvias se erosionan los recuerdos. ¿De verdad ocurrió?
¿Que tan diferente es la memoria de un sueño de la memoria de lo real?
¿Cómo suena la memoria? ¿Cómo se ve?
La siguiente colección de trabajos es un intento por representar la manera en que las imágenes  y sonidos llegan a mi desde la memoria.
Utilizo videos, fotografías y grabaciones de audio donde es imposible reconocer a los sujetos de dichos documentos. Los sonidos borrosos, imágenes fuera de foco y ambientes sonoros irreconocibles, sirven para representar el mundo de la memoria. El pasado no es exacto.
---
1.Digital Video & Audio 4:00 min (extract) 

Una escena de playa acompañada de un paisaje sonoro. Ambos con rostros y lugares irreconocibles.
---
2 Digital Video & Audio 15:00 min (extract)

Un barco zarpando desde un puerto, acompañado de un pasiaje sonoro irreconocible.
---
3. Video & Digital Photography on paper 50 x 27 in
Una escena de playa sin rostros.
---
Una conversación entre un hombre y una mujer donde es imposible distinguir las palabras.
4.Digital Audio
---
5. Digital photography on paper 50 x 27 in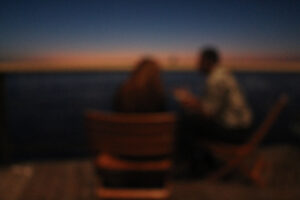 Nuestra cita.
---
Juegos de la infancia con papá.