HOMO MOBILIS.
 Our daily lives are immersed in constant mobility. Technology, contemporary sociological tensions, large cities, among other factors, have made of contemporary humans  homo mobilis. We move out of necessity, for pleasure, or just because we have the possibility. This  mobility based behavior manifests itself in several dimensions  On one hand it creates patterns in space, movement lines  that we can visualize and in some cases make audible. And on the other hand it affects our mind structures. The geographical location of a person is central to the way they build themselves and  their society. Our "mental map" contains not only addresses and routes, but it also  contains sounds, images and emotions. In the process of  building our personalities, biological, symbolic and geographical factors are included.
The series consists of three works:
1. CITY RUN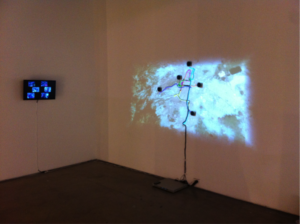 Audiovisual installation.
The citizen in its habitat, mobility as a necessity, as the way to earn the day. Armed with a GPS tracker several citizens do their usual route while its movement is recorded in the GPS and represented as an image and sound  over a map of the city. As a result we obtained an 249km long drawing.
.
VIEW MORE
---
 2.MEMORIA PASAJERA (TRANSIENT MEMORY)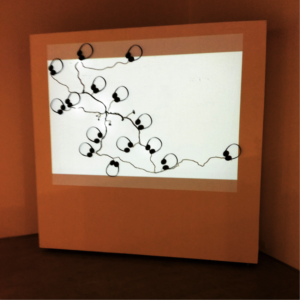 Sound – Visual Installation, 
As a frequent bus traveler, I have seen on wheels many movies and I've heard a lot of music on board too, I think perception is different while traveling and what we hear as we move is experienced in a more sensitive way. In this work  20 road trips  i have done to 20 cities  starting from Mexico City  are shown. This movement is recognized on a map and then represented using 20 headphones (one for each city) which were all obtained on the same trips, given by the bus companies. The sound part is constructed from 20 minutes audio excerpts obtained from movies and songs I've heard on board (over 40 movies and dozens of songs). The lights that run the roads  are programed according to an algorithm that represents the frequency of my trips to the different cities, plus installation darkens in relation to those times I've traveled by night
---
3.APPARENT MOVEMENT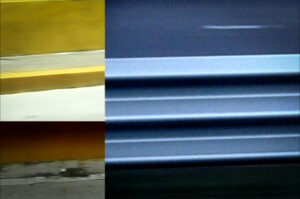 Video & 4.1  audio channels  
The apparent movement is a phenomenon of human perception in which we perceive certain objects in motion when in fact they are not moving. An example of this is the apparent motion of the sky , because what really moves is the earth in it 's rotation and translation movement. Another example are the lines of the road, they really do not move, thus they are painted along miles and our eyes simply walk thru them. Now I live a period of constant road trips, and the apparent movement of the road continues trapping me . The video was taken mostly with a phone camera, as there were not any planning. Whenever I discovered myself mesmerized by the apparent movement of the lines of the way, I took out the camera I had on hand and recorded .For the audio,the original sound of each shot was used , but digitally processed. No extra audio or synth was added.
---
This works have been presented separately in Guadalajara México, Mexico CIty, San Diego California, USA , Manizales, Colombia.
Lectures and conversations about this works:
-Geography Colloqium San Diego State University. 2016
-Sound Maping Class at USCD, La Jolla San Diego. 
-Relaciones Inesperadas, TIjuana B.C. México.
-AMT Festival. San Diego. Panel Discussion on Data visualization. With Justing Manor, Ivette Jackson and Alan Jones. 2017.